Queen Anne's Revenge Pirate Ship 3D Foam Puzzle (155pcs) -- 3D Jigsaw Puzzle -- #4005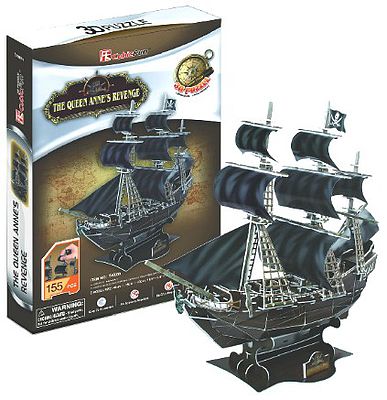 Images

Product Description
This is the Queen Anne's Revenge Pirate Ship 3D Foam Puzzle (155pcs) 3D Jigsaw Puzzle by Cubic Fun.
Product Specifications
Cubic Product Number: 4005
Product Rankings
By cool022883 August 21, 2015
i purchased this model from a different site but i really did like this model.the instructions on this are pretty good the pieces are in number order so there easy to find.the instructions have a few pictures to show you the basic construction and what number pieces go together.but the first steps makes the bottom of the ship and its important you do this as accurately as possible because there are slots that have to align perfectly together if you want a perfect model and everything else gets built off of this first piece.when i made mine i was a little off so i had a hard time getting the pieces that make up the sides of the ship to align correctly but it still came out pretty good.also you have to be careful when taking out and connecting the foam pieces because its thin foam and is easy to get a bend or a crease you don't want.any piece that needs to be folded is also prescored so it is easy to fold it in the correct manner.you also have to be careful when pushing the pieces off the foam because the color is like a thin paper sheet glued to the foam and if the paper gets caught it starts to come off.the model is fairly detailed but does have alot of kind of small parts to make all the details.the box says it takes 200--220 minutes to complete it took more a little more time but that is pretty close.the foam pieces are a tight fit and stay together without glue as long as everything is very accurate but also leaves no room for error so look at the instructions and make sure your aligning all the pieces correctly and you should be good.the pieces do just push out so you don't need a craft knife or any tools to assemble this.just a little patience and time.the sails are made out of paper and you have to handle them carefully because the pop off the page really easily.everything else is made from thin foam.the foam sheets are about as thick as heavy card stock. some of the pieces make a nice stand with a nameplate that says blackbeards ship the queen annes revenge.another thing i would recommend is having a trashcan or box because there are alot of small punchout pieces that make all the connection slots and the nets have a ton of punchout pieces that will make a mess if you don't have a place to drop them into.a great model lots of details pretty good instructions so a fun project to spend a lazy day or take up a little time in the evenings.
Was this review helpful to you? 1 of 1 people liked this
| | | | | | | | | | |
| --- | --- | --- | --- | --- | --- | --- | --- | --- | --- |
| The #1 Source for Hobby Products! | | | | | Help | | Account | | Cart |