German Railway Gun K5(E) Leopold -- Plastic Model Military Weapon -- 1/35 Scale -- #00207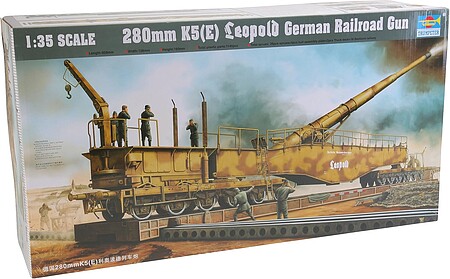 Images

Availability:

In Stock

Your Price:
$101.69
Qty
Retail $149.94:
32% Off
Rewards Points:
2898
Rating:

(29)

Read All Write
Product Number:
TSM00207
Product Description
This is a 1/35 Scale 280mm K5(E) Leopold German Railroad Gun Plastic Model Kit from Trumpeter Scale Models.
Product Features
1140 gray plastic pieces are attached to sprue trees.
Realistically molded plastic pieces.
Authentic rivet detailing.
Detailed wheels and trucks.
Included railroad track section can be finished as a straight track or cross track.
Metal rail chain.
Photo etched grilles for chimney brace frame.
Shells, cartridges and an ammunition wagon are included.
Detailed hand rails.
Pictorial instruction manual.
Product Specifications
Scale: 1/35
Length: 37.8" (959mm)
Width: 5.0" (128mm)
Height: 6.3" (160mm
Trumpeter Product Number: 00207
Product Markings
Markings for two versions are included
1: "Anzio Annie", Italy 1944.
2: Eisg. Battr. 710 Calais/France 1941.
What's Included
One 1/35 Scale 280mm K5(E) Leopold German Railroad Gun Plastic Model Kit.
Requirements & Suggestions
Assembly
Water for Waterslide Decals
Paint
Paint Brushes
Toothpicks or Glue Tips (adc121)
Product Rankings
By jeremy.s.michels1 March 16, 2015
I only give this 4 stars because it's one of Trumpeter's older kits and some of the pieces required a lot of clean up. When looking to buy this kit, definitely have a place to put it first because it is massive. I have mine on a mini dip that's over 3 feet long. The detail that is on the not is great. The instructions are easy to follow. There were times the kit tested my patience, so I would recommend this kit for a modeller with some experience. Had a great time building this kit.
Was this review helpful to you? 38 of 39 people liked this
By forddozertruck December 16, 2015
very awesome kit very large must have some room to put It
Was this review helpful to you? 35 of 35 people liked this
Magnificent Leopold is Dramatic and Challenging
By tirith42 July 22, 2016
The Trumpeter 1/35 Leopold is a massive kit. Details to follow, but here are some observations to get you started: - Many, many parts. 1,140 plastic, plus brass chain, wire, mesh, string (more on this later), and photo etch. A fair number of the parts are very small. - Large and impressive when built - almost a meter long, with the straight railbed weighing in at 42" long. - Crazy amount of detail. Build it right and it looks very realistic. - No crew included, but you can purchase them separately, Trumpeter kit 00406. - Less expensive than DML's similar kit (DML includes crew figs, but for me, that's not worth an extra $40) - The kit has an option to build with straight track or cross track. I built the straight track version so it would fit on a shelf. - Moldings are excellent and are mostly flash-free. Fragile parts are wrapped with thin, soft foam or cardboard to protect them. Overall, the Leopold is a joy to build. Part fit is generally very good. However, it is far from a beginner's kit. There are several challenging steps, and it could be frustrating for those who aren't willing to power through the difficult bits. Here are some of the challenges, as well as some notes on what to watch out for during the build. Paint as you go. I painted all the truck parts assembled at Step 5 (Rear Truck) and Step 8 (Front Truck) prior to continuing, as you would never be able to get at the interior parts once the truck tops are installed in Step 6 (p.17). Also paint the gun assembly prior to enclosing it in the frame (Step 6, p.28). You get the idea - plan ahead. There are many small parts, and many copies of each. The parts that make up the suspension and wheels of the trucks may drive you crazy, and most of them need seam cleanup (though actual flash is rare). I did mine assembly-line-style, and stored each type of part in small cups to keep things organized. For example, parts G15, G16, G18, and G19 are all very similar, and together there are about 96 of them. I cut them from sprues, put them in paper cups, and cleaned them up while binge watching X-Files reruns. In addition to some parts being small, some are fragile, and some are both small and fragile. There was a handle on the ammunition cradle (part F18) that broke when I tried to remove it from the sprue, despite being careful. Some of the parts are warped, and you'll just have to do your best with them. The parts that made up the running board on the rear truck (J43) were a bit twisted, as were the parts for the crew ladders (C22, C23). There are two sections where you have to work with copper wire to form parts yourself. On the trucks, there are 8 metal bumpers or railings (p.18). These aren't too bad if you're patient. But the 16 wires you have to put on the upper barrel of the gun itself (Gun Barrel Step 2, p.24) are much more challenging. The bends in the wires are 3-dimensional and more complicated. Getting them to fit and stay down with CA glue is not for the faint of heart.I actually only put 12 of the 16 on (all 8 in the front, and only 4 of the 8 in the back). Those in the back that I left off didn't seem to lead anywhere anyway. Most of the decals are misnumbered and don't correctly match the instructions. Just match the image of the decal with what you see on the instructions - works much better. The main gun carriage has some very long parts that I assembled a little at a time, including the long inner and outer sides, and top and bottom parts F6, F7, F14, and F15. I tacked them down and then used thin liquid cement along the joints. Go slow and take your time. Unfortunately the gun barrel sections are molded in halves. The gun barrel is the centerpiece of the build, and it will draw your eye immediately. If there are any seams still present or divots from the sprue attachment points, they will seriously degrade the appearance of your model. I cut the parts from the sprues just above the attachment point, then carefully trimmed the excess off with a hobby knife. Once the halves were glued together and dry, I filled any divots with medium gap-filling CA and let it dry thoroughly. The barrel sections were then sanded smooth and polished. The result was seamless :) The gun barrel traveling bracket (parts C50, D14. D15, p.32) used to hold the gun barrel in place while moving from one location to another, does not fit the gun. The moveable brackets are too short to reach around the circumference of the barrel. You'll have to pose it open or make your own parts. The main carriage railings, parts F8 and F9, are long, thin, and frail. Though Trumpeter did a great job packaging and protecting them, once they're in your hands, you'll have to be very careful and patient with them. They require mold seam and sprue cleanup, and it would be very easy to let your concentration lapse briefly and end up with a snapped railing. I attached them with medium CA, one point at a time, and they turned out fine. The ammo crane is a small model itself, and the cable (provided as a long piece of string) is the tricky bit. The string itself is quite fuzzy and not very cable-like. You could either replace it with something else (like thin copper wire, which I would do if I built another one), or fix the string. I put some white glue between my fingers and ran the string though it. This eliminated most of the fuzz and made the string slightly stiff, and a little easier to work with. Rigging the cable in the crane is tedious and fiddly. I cut a small separate piece of string for the hook (part D27), attached the small string to the hook, then glued the small string right to the pulley (part B38). The whole rigging job wasn't perfect, but acceptable. I wish Trumpeter would have provided better directions on the crane cable (they're generally not good at this - their Pz.Kpfw IV Ausf F Fahrgestell ammunition carrier has the same problem, and its crane is much more complicated than this one). Some of the photo etch bending can be challenging. The generator exhaust stacks are flat pieces of brass (PE6) that have to be rolled into shape. Fortunately, Trumpeter provides a part (M8) that you use to aid the process.The exhaust pipe covers (PE5) need a lengthwise bend that can be challenging - I used a tool, the Etch Buddy, to help. The exhaust stack top and bottom parts (PE12) are tricky as well. I used CA to glue the bottom part onto the exhaust pipe, got it straight and level, and let it dry. Then I added the tall stack onto it, and then the top PE12. The decals are fragile. One of mine self-destructed under the effects of Micro Sol. The rest I put on with water, blotted gently, then added a little Micro Sol on top, once it was exactly where it needed to be. You'll need a fair bit of paint for this beast. I went through 2.5 ½ oz. bottles of German Dunkelgelb, and almost a whole 0.75 oz. bottle of Red Brown. Also a bit of clear gloss as a base for decals, and plenty of dullcoat. The sections of railbed tend to come apart if they flex at all while handling. Glue joints split open easily. I braced each one on the inside with strips of sheet styrene. All the sections of railbed will look terrible unless you spend some time filling and sanding the joints. It's a real pain, so I only did one side, the one that faces out on display. Speaking of the railbed, the track itself is a project unto itself. I spent a solid 10 hours on it, most of which was painting and weathering. Make sure to allow time for it, because it looks quite good and realistic when finished. The ammo they supply is tedious to make look good. Byt the time I came to the end of this project, I was ready to be done, so instead of using the kit parts, I got lazy and snagged Verlinden's K5 280mm Ammo (kit 2031), which includes shell casings, powder bags, rounds, and cases. Looks great and the resin parts are solid single parts and much easier to deal with than the trumpeter rounds molded in halves. Despite the challenges and difficulties, this kit was a lot of fun, and builds into a stunning and impressive display piece. The first time I placed the main gun carriage on the two trucks to see its full size, I was all smiles. If you are up to the task, and have put together a few kits of your own (preferably one with a bit of photo etch), then Trumpeter's Leopold will give you many hours of enjoyment.
Was this review helpful to you? 27 of 27 people liked this
Product Tags
| | | | | | | | | | |
| --- | --- | --- | --- | --- | --- | --- | --- | --- | --- |
| The #1 Source for Hobby Products! | | | | | Help | | Account | | Cart |